Welcome to
South Kerry Skillnet
South Kerry Skillnet, a regional, multi-sectoral network was established in 2006 to promote and support the Development of sustainable and vibrant communities in the south Kerry area and its promoter organisation is South Kerry Development Partnership CLG (SKDP) which is a local area Development company.
South Kerry Skillnet is co-funded by Skillnet Ireland and member companies.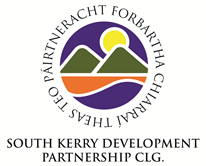 South Kerry Development Partnership CLG is an experienced rural development organisation and has successfully implemented numerous state & EU funded rural development programmes since its foundation in 1991.
See more
"Skill net is now our first call when considering any training needs for our team as we know from experience we will get great professional advice as well as quality affordable training."
Joanne O'Connor
Centre Manager
"FEXCO's partnership with South Kerry Skillnet has allowed us to grow and expand our operations in the South Kerry region, ensuring we have highly skilled staff to service our customers and clients."
Anne Sweeney
Learning & Development
"For many years South Kerry Skillnet has continuously provided a very professional service in terms of sourcing & providing training courses here at our Astellas Kerry Plant.
Joe Kennedy
Learning & Development Lead